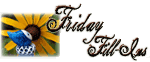 And...here we go!

1. Getting away for vacation next year. I can't wait our up coming vacation. So excited to see my family.

2. Shopping is the finest to start your day off right.

3. Coffee, tea or cappuccino.

4. I like in place of shopping and look for shoes womens.

5. The lights are awesome.

6. My family is my happiness.

7. And as for the weekend, tonight I'm looking forward to watch movie, tomorrow my plans include going flea market and Sunday, I want to spend my time with my two boys!