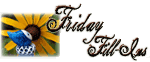 So...here we go!

1. My favorite month is december because hubby and I celebrated our anniversary and too many holidays.

2. Flowers a fresh breeze.

3. I love to sniff especially when I smell fresh air so relaxing.

4. Sausage is what I like to have as a treat for breakfast.

5. The hobby I enjoy most is Zumba

6. muscle stimulation oh my! Hubby loves to use compex muscle stimulators.

7. And as for the weekend, tonight I'm looking forward to watch movie with my family and having dinner at reef hotel, tomorrow my plans include going flea market and Sunday, I want to take a rest the whole
Day!